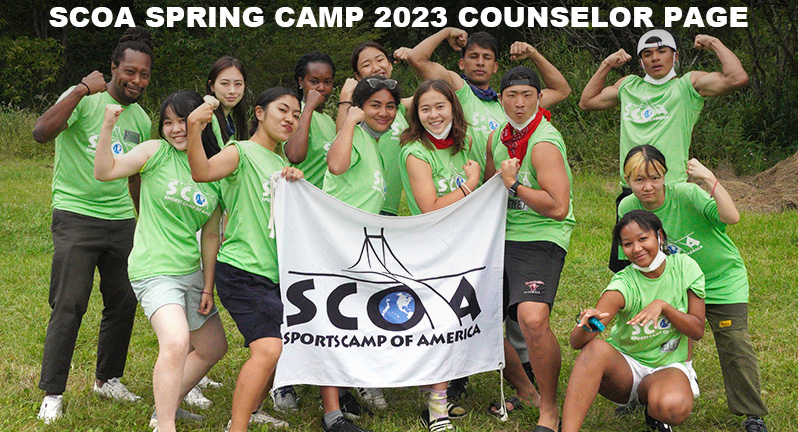 ---
Now accepting SCOA Spring Camp 2023 Counselor Position!

Who are we looking for?
College student or recent graduate
Fluent in English – You do not need to speak Japanese
Present in Japan during the camp dates
Not required, but preferably a current or former athlete
Looking for at least one cheer dancer
Enjoys being around young kids
Genki! – Someone that is energetic and has good leadership skills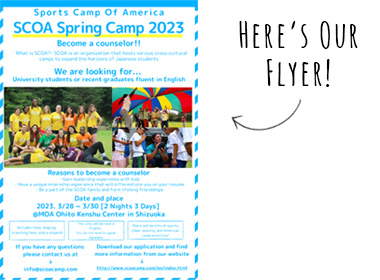 Spring Camp Information
Dates: March 28 – March 30, 2023 (2 Nights 3 Days)
Location: MOA Ohito Kenshu Center in Shizuoka
Includes food, lodging, traveling fees, and a stipend
We also have some openings for high school students as junior counselors – the application process is the same as a counselor
Past Counselors
Past counselors residing in Japan have come from various Japanese universities such as…
Toyo University, Sophia University, Hosei University, Nippon Sport Science University, and International Christian University.
Application Process
Download the application above and send the completed application to info@scoacamp.com.
Upon review, you will be scheduled for a few interviews.
Once accepted, you will attend an online orientation / training session prior to the camp.
Contact Us
If you have any questions, please reach out to us at info@scoacamp.com