SCOA Camp Counselor Bios
2012 Senior Camp Counselors

Chris Yeager
University of California, Berkeley - Rowing
Hometown: Westerville, Ohio
Chris will be graduating in May with a degree in Geography and a minor in City and Regional Planning. He was a rower on the National Championship Cal Rowing team in 2010 and was a Pac-10 All Academic honorable mention. In 2011 he took part in the Under 23 World Rowing Championships where he won Gold in the Mens 8+ event in a new world record time. At Cal, his rowing team placed 3rd at the end of the year and he earned a spot on the Pac-10 2nd Team All Academic list. As a member of the Bear Student Athlete Advisory Committee (SAAC), he has helped with community outreach events directed toward local children and helped organize various other events around campus. He hopes to return to California and eventually continue on his education toward a Masters degree in Education or Sports Management and perhaps continue on his rowing career at the international level.
Action shot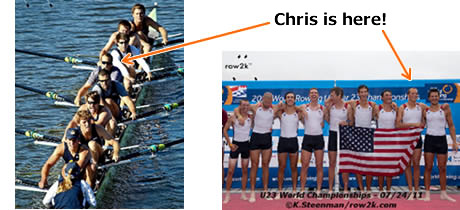 ---

Shelley Harper
University of California, Berkeley - Swimming
Hometown: Walnut Creek, CA
Shelley is majoring in Integrative Biology at Cal and will be graduating this December. She is an Academic All-American and upon graduation she will be attending graduate school to become a Nurse Practitioner. Shelley was a leader for the Bear Student Athlete Advisory Committee that does community outreach projects. She received All-American honors in her swimming events the 500 Freestyle, 400 Individual Medley, and 200 Butterfly. Shelley was captain of Cal's swim team her senior year and led her team to their third NCAA Championship title in four years. She also competed at the Olympic Trials in 2008 and will be competing at the 2012 Trials this June. She has been a swim coach for elementary and high school students for three years. Shelley was MVP of her high school water polo team and played competitive soccer and basketball growing up.
Action shot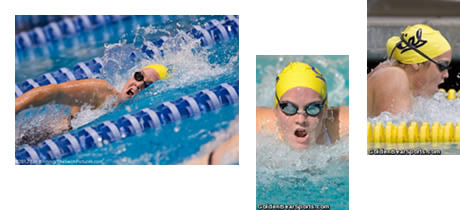 ---

Karl Moran
University of California at Davis – Track and Field
Hometown: Ridgecrest, CA
Karl is currently pursuing a degree in Human Development at UC Davis. During high school, Karl was team captain of both his football and track and field teams. He spent his summers in high school coaching the incoming freshmen football players. His events on the UC Davis track team are 400 meter hurdles and 4x400 meter relay of which he has the 5th and 2nd all time records for in UC Davis. He was a member of his high school Key Club, a volunteer organization that helps children. He has just completed one year of elementary Japanese and plans on becoming fluent.
Action shot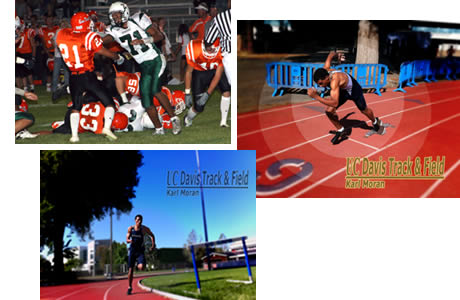 ---

Shana Johnson
University of California, Berkeley-Gymnastics/Dance
Hometown: Castro Valley, CA
Shana is graduating this May with a Bachelor of Arts in Interdisciplinary Studies with a focus on Health Issues and Society. In the fall she will be attending Tulane University in New Orleans to obtain her Master's in Public Health. She competed for two years on the Women's Gymnastics team before suffering a career ending knee injury. Since then she has served as the team manager. During her competitive years she was an Honorable Mention for the Pac-10 All Academic Team. She was a member of a West African dance group that performed in the San Francisco Bay Area. She has also coached gymnastics for many years to elementary aged children.
Action shot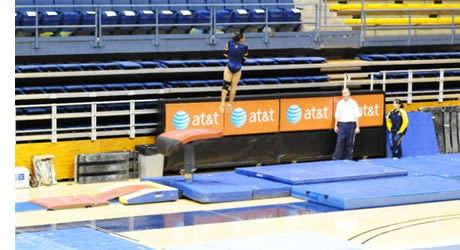 ---

Frankie Telfort
University of Southern California, Los Angeles - Football
Hometown: Miami, Florida
Frankie will graduate next year with a degree in Kinesiology and was awarded outstanding student-athlete at USC. He helps instruct a crash course on American football to international students that attend his university. He has been a student coach at USC for the last 3 seasons and has been playing football since the age of 7. Frankie was a three-sport star athlete in high school. He was team captain and MVP on the football team, a state finalist in track (100 meters & long jump) and was a guard on the basketball team. Plans after college include going to Physical Therapy school or becoming a graduate assistant coach for the USC football team. His hobbies include drawing, painting, writing songs, and exercise.
Action shot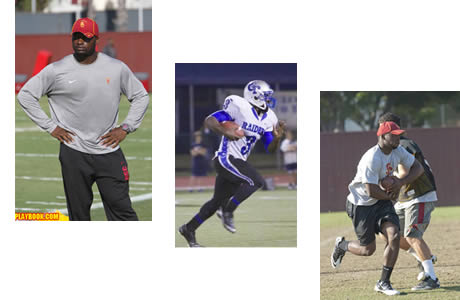 ---

Lauren Curry
University of California, Davis -Tennis
Hometown: Walnut Creek, California
Lauren Curry will be a senior this year and will be finishing her Nutrition Science degree. Last year, she was awarded All-Academic Honors and finished the year strong at the number 4 singles position with a 14-6 season record. She was voted most improved by her team and is currently team captain. She is an intern for the Shaping Healthy Choices Program which promotes maintaining a healthy lifestyle to elementary school kids. She has been a tennis camp counselor for elementary and middle school kids for three consecutive summers.
Action shot
---

Katie Suits
University of California, Berkeley – Soccer
Hometown: Seal Beach, California, CA
Katie Suits is a senior, scholarship student-athlete at the University of California at Berkeley. For the past four years, Katie has been a center midfielder on the women's soccer team and was a senior captain for the Bears her final season. Katie will be graduating in the fall with a degree in Sociology with a concentration in Media Studies and a 3.4 GPA. She was selected as All Pac 12 Academic Honors the past three years. Katie was the class president of her junior and senior class in high school and has been an active community service member of the Student Athletic Advisory Committee at Cal, mentoring underprivileged children in Oakland. Katie was chosen as one of two student athletes to attend the NCAA Sports and Media Summit in Los Angeles last year and is currently interning for Careerathletes.com as a site promoter. Katie has been a nanny for a local Berkeley family the past two years and has coached kids at the Cal women's soccer camp for the past four. Katie is an excellent leader and has a bright and cheery personality.
Action shot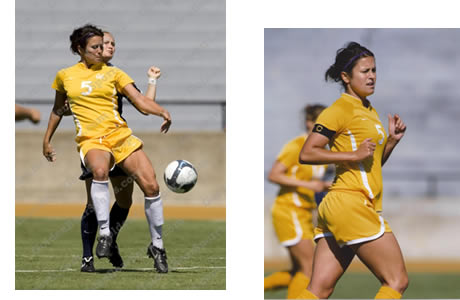 ---

Megan Heneghan
University of California, Davis - Tennis
Hometown: Tustin, CA
Megan Heneghan is a third-year student at UC Davis majoring in Communication and minoring in Spanish. She currently plays at the number 1 singles and number 2 doubles positions for the NCAA Division1 Women's Tennis Team at UC Davis. She was named the 2011 Big West Freshman of the Year for Women's Tennis, and received Big West 2nd Team honors for doubles with her partner Kelly Chui. She was placed on the Dean's Honors List for Spring Quarter of 2011 for achieving a GPA of 3.8. Megan was a camp counselor and coach at the UC Irvine Summer Camp for kids ages 7-14. She enjoys playing a variety of sports and working with kids. She was vice president of her high school's advanced choir group and auditioned for American Idol (a popular American singing talent show) twice.
Action shot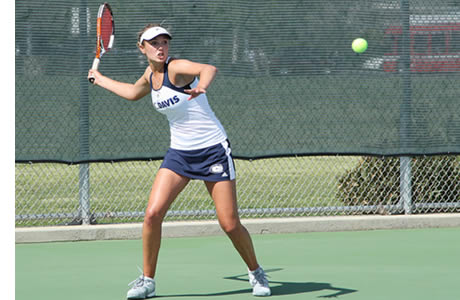 ---

Lindsey Hancock
Southern Utah University, Cheer Dance
Hometown: Draper, Utah
Lyndsey recently graduated with a Bachelor of Science in Physical Education with an emphasis of Exercise Science. She has been dancing for over 18 years and has trained in a variety of dance styles. She has won numerous scholarships to dance conventions and has assisted for many famous choreographers including Sabra Johnson, Nick Lazzarini, Travis Wall, Caroline Lewis, Dominic Sandoval and many more. Lyndsey has been given many leadership opportunities throughout high school and college. She was team captain of her college dance team for 3 years as well as head captain over the spirit squad. She was the assistant dance coach for a high school where they swept every competition and took second at state. Along with coaching at the high school she has been a dance and cheer instructor ranging all age groups. Lyndsey is an instructor for the National Dance Alliance (NDA), a national collegiate dance team, and was awarded Rookie of the Year. She plans to further her education and become a nurse working in pediatrics. She enjoys outdoor activities such as skiing, snowboarding, rock climbing and kayaking.
Action shot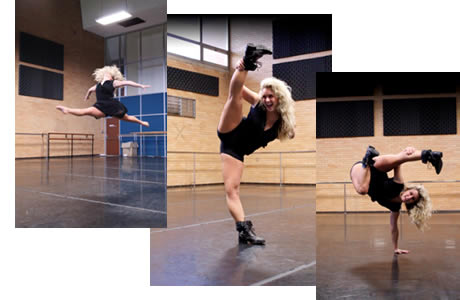 ---

Kenny On
Wesleyan University, Middletown, Connecticut
Hometown: Amherst, Massachusetts
Kenny is a Sociology and Government double major at Wesleyan University. He played competitive soccer and basketball throughout high school and is playing club soccer in college. He also has been playing the piano since he was seven years old and loves to read. Kenny loves to travel and experience different culture. This side of him has brought him to many different places in the world. He is very excited to experience the culture of Japan make some new friends! He volunteers for several organizations including for Best Buddies a program modeled on the Big Brother program.
---

Abigail Selya
University of California, Davis – Basketball/Dance
Hometown: Santa Rosa, California
Abigail is a second year Food Science & Technology major. She has had a lifelong passion for sports and played basketball, volleyball and track in high school. She also found time to be vice president of her high school advanced dance club as well as the president of the international culture club. She is a very experienced camper, attending Camp Newman Swig overnight camp every summer from 3rd grade to 9th grade, spending 2-to-4 weeks there each summer and gaining lifelong friendships and memories. She loves cooking and won a local Iron Chef contest. She has done college internships as a line chef at a restaurant and at the UC Davis Meat Lab. In high school, she volunteered as a mentor to incoming students.
---
LOGISTICS AND ACTIVITIES COORDINATOR

Stephen Fagerness
University of California, Davis – Football
Hometown: Sacramento, California
Coming back to SCOA for a fourth year, Stephen is currently majoring in East Asian Studies and minoring in English at UC Davis. In high school, Stephen played defensive end on the football team in addition to serving as the principle cellist in the school orchestra. In addition to his studies, Stephen is a student kitchen supervisor at the UC Davis Coffee House, an on-campus institution serving thousands of students each day. In his free time, he enjoys listening to and making music. An Eagle Scout, Stephen also likes going on hikes and spending time in the great outdoors.
---
Junior Camp Counselors

Makoto Ejima
Mid-Pacific Institute, Honolulu, Hawaii, Rowing
Hometown: Tokyo
Makotz will be back for his second year as a SCOA junior camp counselor, after participating as a camper at SCOA as a junior high student. He is a junior in high school and is on the varsity Canoe-Paddling team and has a football background. He is a second year peer mediator at his high school and is member of the National Arts Junior Honors Society.
---

Mika Kato
Shibuya High - Dance
Hometown: Kawasaki
Mika was born in Los Angeles and spent her early years there. She moved to Dubai and attended an international elementary school. She is currently a senior in high school and is a member of the baton twirling club that performs at school festivals and sporting events. She is a member of her school's Peer Tutoring club and placed in the top 5 at her school in an English essay contest. She volunteers each week at an orphanage and last summer was a volunteer at a temporary housing unit in Fukushima, playing with young children displaced by the disasters. Mika is also a junior camp counselor at SCOA's weekend day camp during the school year.
---